We do not have a blackberry app and do not plan to support this platform in the future.  If you wish to utilize ContactSaver, please use the web version.  You can then sync your google contacts with your black berry by following these instructions:
Google Sync allows you to sync mail, calendar, and contacts from your Google Apps account to your BlackBerry device. Before setting up Google Sync, back up your BlackBerry data to your computer following the instructions in BlackBerry's Knowledge Base.
Your administrator needs to have Google Sync enabled before you can use Google Sync. Note that after you set up Google Sync, your administrator may also have additional device management capabilities (such as remote wipe or password requirements). Contact your administrator for more details.
Set up Google Sync
1. Open the Settings application on your device's home screen.
2. Open Accounts.
3. Select Add Account.
4. Scroll down and open Advanced.
5. Select Microsoft® Exchange ActiveSync.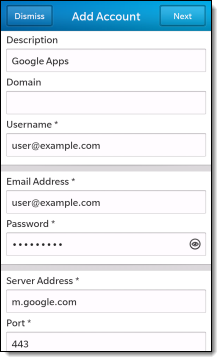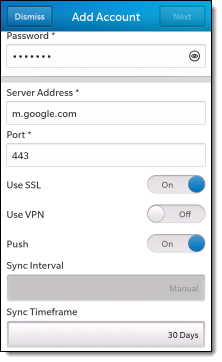 Enter account info
6. In the Email field, enter your full Google Account email address.
7. Leave the Domain field blank.
8. Enter your full Google Account email address as the Username.
9. Enter your Google Account password as the Password.
10. Enter m.google.com as the server address.
11. Press Next at the top of your screen again and select which services you'd like to sync.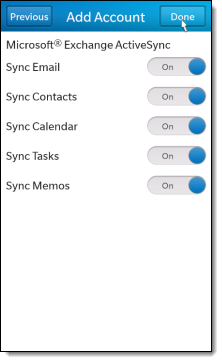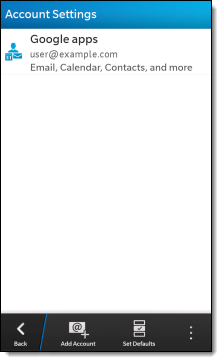 You've set up Google Sync! Synchronization will begin automatically if you have Push enabled on your device. You can also open the Mail, Calendar, or Contacts app and wait a few seconds to start a sync. Note that if you've recently signed up for Google Apps for Work, Education, or Government, it can take a few hours (up to 24) before you're able to sync with your mobile device.